Islam is invading America for subversive purposes.
This high school is in Lanham, MD.

The same city where Turkey's Government opened a
$100 MILLION Diyanet Center of America in 2015
which additionally supports its "affiliate" Mosks
2011 Michelle Obama & Muslim Brotherhood at
An Nur School in Lanham, Maryland

AN EXHIBIT of Dangerous Associations
This page questions an association between a Maryland Senator and factions of a foreign militarized, subversive, organization invading the United States.
Gail Bates (born December 24, 1945) is a member of the Maryland Senate. She was a member of the Maryland House of Delegates selected to replace Robert Kittleman in the Maryland House of Delegates in February 2002 when Kittleman was selected to replace Chris McCabe in the Maryland State Senate.
June 23, 2011 - By Larry Carson, The Baltimore Sun
Howard County Elected Officials Head Overseas
Gail Bates is also one of the Carroll County, MD Delegation
"Having visited Turkey in December 2010, Delegate [Gail] Bates spoke very highly of her experience in Turkey and invited all the members of the House to visit Turkey with the trips organized by TAA. [Turkic American Alliance]. Ms. Bates said 'I had the opportunity this year [2011] to go on a trip to Turkey. This incredibly well planned trip was a very exciting opportunity and such a good experience for myself. One of my goals on the trip was to focus on topics that unite us rather than divide us. As a practicing Christian, going to a Muslim country helped me to begin to see the commonalities we have and the things that we share.'" "In view of the good delegate's endorsement of TAA-organized travel to Turkey, perhaps this conservative Christian appropriations panel member could identify for us "the commonalities we have and the things that we share" with an Islamist polity?"
IT IS ILLEGAL TO NATURALIZE PERSONS WHO BELIEVE IN COMMUNISM OR TOTALITARIANISM U.S. Code § 1424 - Prohibition upon the naturalization of persons opposed to government or law, or who favor totalitarian forms of government https://www.law.cornell.edu/uscode/text/8/1424

Photographs at this link of the
TURKISH AMERICAN ALLIANCE LEGISLATIVE RECEPTION
2015, in Annapolis, Maryland: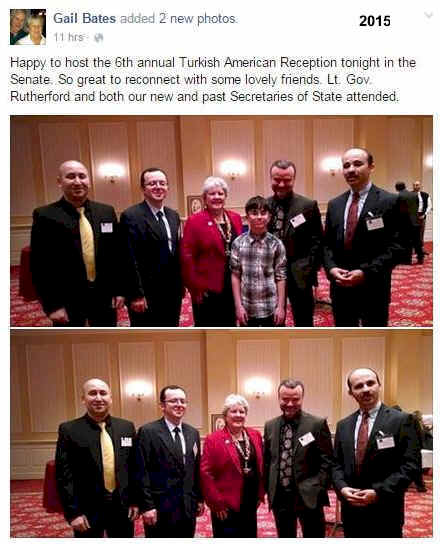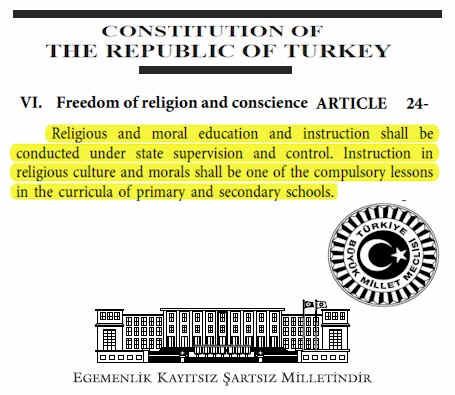 https://global.tbmm.gov.tr/docs/constitution_en.pdf
Hanafi school: A Hanafi manual of Islamic law insists that people must be called to embrace Islam before being fought, "because the Prophet so instructed his commanders, directing them to call the infidels to the faith." It emphasizes that jihad must not be waged for economic gain, but solely for religious reasons: from the call to Islam "the people will hence perceive that they are attacked for the sake of religion, and not for the sake of taking their property, or making slaves of their children, and on this consideration it is possible that they may be induced to agree to the call, in order to save themselves from the troubles of war."
OTTOMAN EMPIRE REVIVAL 101:
In Turkey, the Presidency of Religious Affairs (Turkish: Diyanet İşleri Başkanlığı also Religious Affairs Directorate, and normally referred to simply as the Diyanet) is an official state institution established in 1924 in article 136 of the Constitution of Turkey by the Grand National Assembly of Turkey as a successor to the Sheikh ul-Islam after the abolition of the Ottoman Caliphate.[1]
As specified by law, the duties of the Diyanet are "to execute the works concerning the beliefs, worship, and ethics of Islam, enlighten the public about their religion, and administer the sacred worshiping places".[2] The Diyanet drafts a weekly sermon delivered at the nation's 85,000 mosques and more than 2,000 mosques abroad that function under the directorate. It provides Quranic education for children and trains and employs all of Turkey's imams, who are technically considered civil servants.[3] It has been criticized for ignoring the Islamic creed of the 33–40% of Turkey's population that is not Hanafi Sunni Muslim.[4]
Started from 2006 the Diyanet was "beefed up", and by 2015 its budget had increased fourfold,[5][6] and staff doubled to nearly 150,000.[5] In 2012 it opened a television station,[4] now broadcasting 24-hours a day.[5] It has expanded Quranic education to early ages and boarding schools – "enabling the full immersion of young children in a religious lifestyle"[4] – and now issues fatawa on demand.
According to some observers (David Lepeska, Svante Cornell), since the Justice and Development Party (AKP) came to power in 2002, the mission of the Diyanet has changed – from one of exercising state oversight over religious affairs and ensuring that religion did not challenge the Turkish republic's "ostensibly secular identity", to that of promoting mainstream Hanafi Sunni Islam, "a conservative lifestyle at home, and projecting "Turkish Islam abroad".[5]
https://en.wikipedia.org/wiki/Presidency_of_Religious_Affairs
This photograph of Mr. Erdogan and Mr. Obama was taken in May of 2013 at the Whitehouse Rose Garden. Prior to this photograph, Mr, Erdogan presided at the ground breaking for the Diyanet government buildings being constructed in LANHAM, MARYLAND, which eventually opened in April 2, 2015. link to the Diyanet Islamic government in Maryland:
Turkey's Recep Tayyip Erdogan and Fethullah Gülen are two Islamists who are globally known to be key figures with a grand dream to revive the Ottoman Empire. They were in need to gain support from U.S. congress, especially lawmakers. So Gülen founded hundreds of charter schools across the United States and around the world and expanded his own media moguls with a powerful network of business leaders and organizations. He then started a confusing net of subsidiary groups by secretly funding more than 200 trips to Turkey for members of the United States Congress which went as far back as 2008.

An extensive investigation by the USA Today newspaper has found that these trips have been "repeatedly violating House rules and possibly federal law."

Reliance of the Traveller, a sharia manual bearing the endorsements of the faculty at Cairo's Al-Azhar University (the seat of Sunni learning since the 10th Century), and the International Institute of Islamic Thought, a Muslim Brotherhood think-tank in the U.S. Under this repressive interpretation of sharia -- which is mainstream in the Muslim Middle East -- any critical examination of Islam and its prophet is considered blasphemy punishable by severe penalties, including death. [September 17, 2012]
An anti-Christ, Moslim perspective